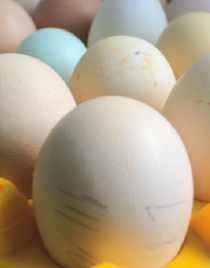 Fertile Eggs Giant Indian
(eggs gallants)
Fertile eggs Indigo Giant, for natural or artificial incubation. The process of incubation, whether by means of brocade or natural hens with hens, is delicate and depends on several factors. Thus, we offer no guarantee as to hatchability of the eggs, nor as to their fertility.
We guarantee that the eggs are kept in ideal conditions of storage, temperature and humidity, from the moment of laying until its sale. In addition, they come from healthy birds, vaccinated and raised according to animal welfare standards.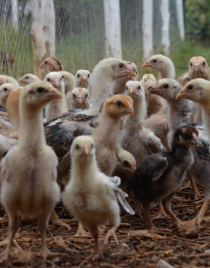 Giant Indian chicks
We have Giant Indian chicks with different ages and properly vaccinated.
Our chicks are selected from large and healthy breeders. In addition, all factors that may influence the proper development of chicks during the incubation process are strictly controlled so that they grow in a healthy manner. We ask that before making any purchase by the site, that you contact us to be notified of what age is available.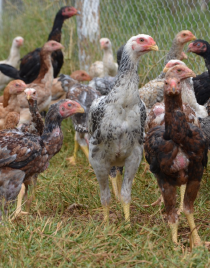 Little Guys and French Guys
Here in the Giant Rooster, our chickens undergo a rigorous control of biometrics and weight in order to select the best birds. Each month, all birds are measured and weighed, and those that do not fall below the standard above the Giant Cock are discarded.
In this way, the customers, when they acquire our birds, know that they are buying the best genetics, quality and provenance of the Giant Indian birds.
Giant Indian Chicken
We sell only selected Giant Indian chickens. Our squad is composed of hens of high standard. Our matrices are between 0.90m to 1.00m. Our birds are fed with ration specially formulated for a good development and have constant veterinary follow-up. All our squad follows a routine of vaccination from the first day of life.
Giant Indian Rooster
Strong and owner of good musculature, they are excellent breeding of chickens with high yield of meat. Created with respect for their well-being and the basis of good nutrition, the rooster can weigh up to 6 kilos and measure 1 meter, and can reach up to about 1.20 meters in height.